Posts for tag: oral health
By Marengo Dental
January 14, 2015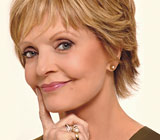 Florence Henderson, star of one of television's most beloved situation comedies, is still actively engaged in a variety of projects at 75-plus years of age. Her bright smile was part of her character as Carol Brady in The Brady Bunch, a popular sitcom that played for five seasons from 1969 to 1974. Though the show was discontinued, syndicated episodes continue to play in the U.S. and 122 other countries.
"I played Carol as the mother I always wished I had," she told Dear Doctor magazine. Her portrayal of mother and wife in a blended family with six children won her the Smithsonian Institution's TV Land Pop Culture Icon Award, which is on display in the National Museum of American History in Washington, DC.
After her successes on Broadway and in television, she was selected for numerous product endorsements, and The Wall Street Journal ranked her #5 in their top ten television endorsers based on viewer satisfaction. One of the products she endorsed was Polident, a brand of denture cleaners and adhesives. However, Henderson has revealed that she has her own natural teeth and does not wear dentures. Her advice to others who want to keep their natural teeth is to pay attention to prevention. "I think the most important thing one can do as with any health issue is prevention," she said. "Flossing, brushing, and regular dental checkups are vitally important if you want to keep your natural teeth."
When she was 22, she says, she had four impacted wisdom teeth removed at the same time. This experience made her aware of the importance of dental care, and since then she has had a checkup every six months. Wherever she travels, she says that she always has mouthwash, dental floss, toothpaste, and a toothbrush on the set.
Contact us today to schedule an appointment to discuss your questions about tooth care. You can learn more about Florence Henderson by reading the Dear Doctor magazine interview "Florence Henderson, America's Favorite TV Mom Has Many Reasons to Smile."
By Marengo Dental
December 19, 2014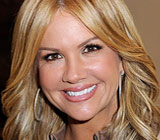 We've all heard of morning sickness, but did you know that it's also not unusual for pregnant women to experience oral discomfort? This is what Entertainment Tonight co-host Nancy O'Dell discovered when she was expecting her daughter, Ashby. In an exclusive interview with Dear Doctor magazine, Nancy described how her gums became extra-sensitive during pregnancy, leading her dentist to diagnose her with "pregnancy gingivitis" ("gingival" – gum tissue; "itis" – inflammation).
"While my dental health has always been relatively normal, pregnancy did cause me some concern about my teeth and gums," Nancy said. "With my dentist's advice and treatment, the few problems I had were minimized," she said.
It's especially important to maintain good oral hygiene during pregnancy with routine brushing and flossing, and regular professional cleanings. This will reduce the accumulation of the dental bacterial plaque that leads to gum disease. Both mother and child are particularly vulnerable to these bacteria during this sensitive time. Scientific studies have established a link between preterm delivery and the presence of periodontal (gum) disease in pregnant women. Also, the elevated hormone levels of pregnancy cause the tiny blood vessels of the gum tissues to become dilated (widened) and therefore more susceptible to the effects of plaque bacteria and their toxins. Gingivitis is especially common during the second to eighth months of pregnancy.
Excess bacterial plaque can occasionally lead to another pregnancy-related condition in the second trimester: an overgrowth of gum tissue called a "pregnancy tumor." In this case, "tumor" means nothing more than a swelling or growth. Pregnancy tumors, usually found between the teeth, are completely benign but they do bleed easily and are characterized by a red, raw-looking mulberry-like surface. They can be surgically removed if they do not resolve themselves after the baby is born.
If you are experiencing any pregnancy-related oral health issues, please contact us today to schedule an appointment for a consultation. If you would like to read Dear Doctor's entire interview with Nancy O'Dell, please see "Nancy O'Dell." Dear Doctor also has more on "Pregnancy and Oral Health: Everything You Always Wanted To Know But Never Knew To Ask."
By Marengo Dental
December 04, 2014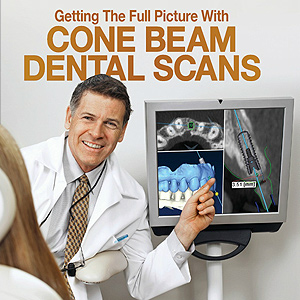 For decades, dental x-rays have helped us accurately diagnose and treat a wide array of dental diseases and conditions. But even with recent advances in digital imaging, the traditional x-ray does have one drawback: its two-dimensional view doesn't always provide the "big picture" that a three-dimensional viewpoint can provide.
But a new type of x-ray technology can do just that: known as cone beam computed tomography (CBCT), these machines record hundreds of digital images as a cone-shaped beam of x-ray energy is projected through a device that rotates around a person's head. A computer then assembles the images into a single three-dimensional image that can be manipulated on screen to view from various angles. Not only does this provide greater context and detail, it does so with no more radiation exposure than a standard 20-film digital full-mouth x-ray series.
While CBCT hasn't replaced the traditional x-ray, it's making its mark in a number of specialized areas of dentistry. The following are just a few of the ways CBCT is improving both accuracy and treatment outcomes.
Orthodontics. CBCT can provide a much more detailed view of the entire jaw; this can help us determine the best locations for realigning teeth safely and effectively.
Dental Implants. With a CBCT scan we can precisely locate nerve canals, sinuses and adjacent teeth before implant surgery to locate the best position for the implant.
TMD Treatment. To help develop the best treatment approach for alleviating the pain and dysfunction of temporo-mandibular joint disease (TMD), a CBCT scan can provide us detailed information on how the disease is affecting a patient's joints, teeth, sinuses and airway.
Impactions. An impacted tooth can exert damaging pressure against the roots of neighboring teeth. A CBCT scan allows us to observe the impacted tooth from various vantage points to determine the best treatment approach for neighboring teeth, nerve canals and sinuses.
If you would like more information on CBCT technology, please contact us or schedule an appointment for a consultation. You can also learn more about this topic by reading the Dear Doctor magazine article "Getting the Full Picture With Cone Beam Dental Scans."
Marengo Dental P.C.
110 E Washington St
Marengo, IL 60152
(815) 568-1202